Testomax 200

: Does It Really Work?
Rated:
3.75

out of

10


by

MaleEnhancement.com
When it comes to deciding whether or not you need a testosterone booster, the first thing you need to do is make sure that you really need one. Are you experiencing erectile dysfunction? Have you seen a decline in sexual performance or stamina? Do you feel a decline in libido? If your answer to these questions is yes then a top level male enhancement supplement is probably the right choice for you. The question then becomes, which one of the seemingly hundreds of products on the market today will produce the results you are looking for.
To help narrow down these options we thought we would look at one that has received a considerable amount of buzz recently - Testomax 200. This is one of many products produced by Natural Breakthroughs Research of Grandville, MI. Although the company has been around for long time and has offered a large number of products the overall effectiveness of their product line has been hotly debated. With that in mind, let's put Testomax 200 under the microscope and see what it's all about.
Testomax 200 Claims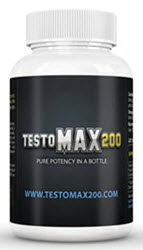 Promotes increased sexual performance
Increases stamina in workouts and sexual activity
Boosts energy levels naturally
What Makes Testomax 200 Work?
Contained in Testomax 200's proprietary formula, which means they have decided to keep the exact amounts secret, the user will find three different, all natural ingredients that have become standard elements in any serious male enhancement supplement available today. One thing that does stand out with this formula is that, unlike many similar products, the list of ingredients is quite small. Now, some would say that's a good thing because it doesn't contain a lot of unnecessary ingredients that don't really add much to the mix. Then, there are some who say that this formula is lacking because it doesn't provide a lot of potentially helpful ingredients that could only help make the formula better.
What can be said is that, the few ingredients that the manufacturer chose to include do have a solid track record relative to its competitors. Plus, it should be noted, that these ingredients are all natural and are certainly a good option for men who want to avoid any of the synthetic testosterone options and their long list of negative side effects.
Testomax 200: Why These Ingredients?
Tongkat Ali 600 MG
The main element found in Testomax 200 is Tongkat Ali. The suggested dose is 600 milligrams which, compared to its competitors, is well above average. The question here is why would the manufacturer chose to go so heavily on this ingredient when so many of the leading brands have chosen a much more recognized amount?
The answer could be that the manufacturer believes that the greatly increased dosage offers some benefits that its competitors have overlooked. On the other hand, it could be that they believe that doing something that separates Testomax 200 from the pack is a good marketing strategy. Without the benefit of studies showing an increased benefit from raising the dosage so much the only real way to determine if this is a good move is to look at what users are saying. We'll look at that a little later.
The bottom line here is that, despite the question regarding the dosage level of Tongkat Ali, there is little doubt that this ingredient, which is so central to so many well-respected male enhancement supplement, is an essential ingredient and a real positive.
Ginkgo Biloba
The manufacturers of Testomax 200 chose to make Ginkgo Biloba the second main ingredient in its proprietary formula and, even though there is good reason to do so, this one is a real head scratcher. First of all, you have to look at the recognized benefits of Ginkgo Biloba which are most known for boosting libido by increasing the ability of receptors in the body to sense stimulus and translate that into increased sexual arousal.
Ginger Root 50 MG
The decision by Natural Breakthroughs Research to include a small and frankly insignificant amount of ginger root to this proprietary blend is also a bit mystifying. Although ginger root is known for its ability to promote the increase of testosterone levels it's hard to see how adding such a small amount can make any real difference in the way this supplement will work.
User Reviews
As noted earlier, after all the analysis and comparison to other products, the only real way to determine how effect Testomax 200 or any other male enhancement supplement is truly effective is to see what actual users are saying about it. With that in mind, we took an extensive look at reviews and testimonials both on the Testomax 200 official website and other, more independent, sources. Here's a sample of what we found:
"Realizing that I had been experiencing the symptoms of low testosterone levels for a long time I decided to try a supplement. I chose Testomax 200 because a friend had recommended it. Knowing that it might take awhile before I saw any tangible results I decided that I would give it a couple of bottles worth before making a judgement. Unfortunately, it turned out to be a waste of time and money because I have not noticed any change in how I feel or in the way I perform sexually. When I went back to my friend and told him about my lack of results he told me that he had recommended it because he had just started it and thought he could feel some changes. It turns out that his initial optimism was short lived. We both think there must be better choices out there."

Robert T.
"When I saw that Testomax 200 had such high levels of Tongkat Ali I figured it was worth a try. That was a mistake and a waste of money. Next time I'm gonna do my research and go with a pill that has a proven track record."

Israel M.
The Pros
Main ingredients are well-recognized in the industry
Very high percentage of known testosterone booster, Tongkat Ali
Contains highly recommended libido boosting elements
The Cons
Proprietary blend's effectiveness is hard to determine
Lacks many ingredients common to other top supplements
User reviews tend to be negative.
The Final Verdict
At the beginning of this review we made a simple point: Do you need a testosterone booster. Well, if it turns out that you are experiencing the symptoms of low testosterone including erectile dysfunction, a decrease in physical and sexual stamina and low libido then the answer is probably an emphatic yes. The question then becomes, which male enhancement is the right choice for you and could Testomax 200 be the one for you.
When we looked into all the aspects that make Testomax 200 a much talked about entry into the male enhancement supplement market we wanted to know why. The answer boils down to its proprietary blend comprised of Tongkat Ali, Gingko Biloba and Ginger Root. All three ingredients have a well-established credentials that suggest this product could be a formidable entry into the market but the fact that the seemingly over reliance on Tongkat Ali and the unverifiable quantities within the blend make it a questionable choice when compared to many top competitors.
Add to that the fact that the majority of independent user reviews were generally negative and the only reasonable conclusion you can come to is that Testomax 200 may have taken a novel approach to male enhancement supplement formulation but, in the end, the consensus among users is that it simply does not provide the results claimed by the manufacturer.
So, if you truly need a product that will boost your testosterone levels, the best thing to do is choose one that has a lot more positives.
For more information on top tier male enhancement supplements, see below.