NitroX 2

- Great for Male Enhancement and Pre-workouts?
Rated:
3.5

out of

10


by

MaleEnhancement.com
Do you need a male enhancement product that can help you perform in the bedroom while increasing the size of your erection? What about a male enhancement product that helps you reach "beast mode" in the gym so that you can burn fat and pack on muscle? Well, the makers of NitroX 2 ask: why not both? Their male enhancement product promises to be the miracle pill that can grant you both wishes for the price of one. Our in-depth review analyzes this male enhancement supplement to see if it can live up to the hype.
NitroX 2 Enhancement Ingredients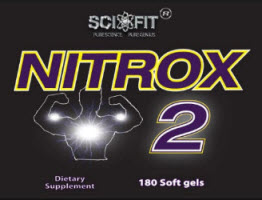 NitroX 2 contains the following ingredients:
L-Arginine
Yohimbe
B vitamins
L-Carnitine
Chromium
Green tea extract
Yohimbe is known to increase blood flow all over the body, especially to the penis. It is also a known thermogenic (that's fancy science talk for "fat burner") which can help you burn more fat while you try to gain muscle. The amino acids listed above are known for increasing nitric oxide levels in the blood. This not only helps during workouts, but it can also send even more blood to your erect penis.
Does NitroX 2 Cost a Fortune?
The price you pay for NitroX 2 depends on where you buy it from on the internet. There are many different websites that sell this male enhancement supplement, and almost all of them will quote you a different price. Some internet vendors are selling a 30-day supply for just under $40. One seller offers a 60-day supply and a 60-day money-back guarantee for a total of $56.95. But the most popular offer by far is their 30-day "free" trial (as long as you pay $4.95 for shipping).
How Well Does NitroX 2 Help With Male Enhancement and/or Fueling Your Workouts?
With NitroX 2, there are two questions to address when discussing its efficacy: it's male enhancement potential, and its ability to help you sculpt a more manly physique for yourself.
Here's what we like about NitroX 2: for starters, we like the fact that it contains amino acids known to increase nitric oxide. In our experience as reviewers, those are some of the best ingredients for both male enhancement and improving your workouts in the gym. We also appreciate that they threw some yohimbe into the mix. While it's true that abuse of yohimbe, especially with caffeine products, can cause heart trouble, it is both an excellent fat-burner and an erection-enhancer.
What we don't like however, is the fact that it only has two of the known amino acids that can increase NO (nitric oxide). There are many more amino acids known to effectively enhance NO that they could have added, but they didn't. And that means that this formula may not be as powerful as the manufacturer claims.
NitroX 2 has a promising future as both a male enhancement product and a pre-workout but it is not guaranteed to work for every customer who tries it. To learn about products that are virtually guaranteed to meet your male enhancement needs, click here!