Our Review of
Spartagen XT Male Enhancement Pills
Rated:
4.8

out of

10


by

MaleEnhancement.com
What do you think of when the name "Spartagen XT" and "male enhancement" are put together in the same sentence? Are you picturing a mighty warrior, spear in hand, ready to fight victoriously against his toughest enemies? Well, to some extent, that's the image which the manufacturers of Spartagen XT are trying to convey.
Thankfully, their packaging lacks a tacky cartoon image of an impossibly muscular ancient warrior charging into battle. But everything else that mental image hints at - the powerful, muscular physique, the high testosterone levels, and the implied sexual stamina and potency - are all things which you should be able to achieve by supplementing your diet and exercise routine with Spartagen XT. But how true are these claims? Is it all advertising hype, or will Spartagen XT transform you into the manliest of men? Take a look at our review. We'll answer these questions for you, and many more.
Spartagen XT Ingredients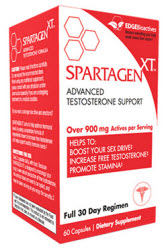 The ingredients list of Spartagen XT is quite the read. For starters, it contains many of the essential nutrients which, in addition to being generally good for you, are thought to help enhance male health in particular:
Vitamin E
Vitamin D
Magnesium
Zinc
Vitamin B6
Then there's the herbal ingredients. It's basically a catch-all list of every single natural herb and extract which has been "recently discovered" to cure male sexual dysfunction and/or enhance male reproductive health. These include:
Tongkat Ali
Maca Root
Asian Ginseng
Tribulus Extract
However, it isn't completely clear how much of each ingredient is contained in this "proprietary formula", so it's hard to know if you're getting the most effective dose. The manufacturers of Spartagen XT are also quick to point out what their supplement doesn't contain, which is good news if you have any specific type of food allergy. Also, it's gluten free!
How Much Does Spartagen XT Cost?
There are many websites which seem to be willing to sell you Spartagen XT - although the legitimacy of some of them seems questionable. The most respectable looking online vendor is offering a month's supply for $69 - but you can only get that price if you purchase a 6-month supply. So by our math, that's over $400 just to get started.
The more reputable vendors also offer several bonus books (or maybe eBooks? It isn't exactly clear) to help enhance your sex life and maximize your gym time. Finally, if you have an extra $19.95 per week lying around, you'll be eligible to sign up for "Keep Your Edge" life coaching sessions.
Does Spartagen XT Work Well?
It's really hard to say with this one. You can find plenty of reviews which praise Spartagen, but many of them read like a scripted advertisement rather than an authentic review from a real-life customer. What's more is that this is another one of those companies with a secret auto-billing/shipping clause hidden deep within their Terms and Conditions. For many customers who failed to read the fine print, this was their biggest complaint (next to the product not working, of course).
If you're curious about male enhancement products, take a look at our Top Picks here!