Formula 41 Extreme

: Will It Work For You?
Rated:
3.5

out of

10


by

MaleEnhancement.com
As one of the newest entries into the male enhancement supplement market, Formula 41 Extreme is gaining a lot of attention because of its promise. We decided it was time to take a look and see if it lives up to the hype.
About Formula 41 Extreme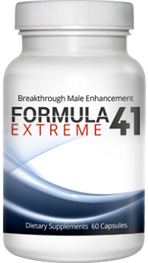 To understand why Formula 41 Extreme is being talked about so much by industry professionals and supplement users is directly related to the claims it makes for itself. These claims include such statements that it has been in development for more than a decade, that it will help users achieve greater penile size and hardness, promote greater sex drive and, ultimately, lead to longer, stronger and more satisfying sexual experiences for both the user and their partners.
The more eye catching claims are that it uses a clinically proven formula that is designed to create a new, two part system that achieves these desired goals. As a result of this new system, Formula 41 Extreme states that it is the "#1 rated male enhancement supplement in history."
However, this two part system, which they call "a revolutionary Instant-Expansion Technology" is based on a couple of long held principles for the creation of any top tier male enhancement supplement. These principles are that ingredients that promote increased blood flow allow the penis to grow more rapidly and when combined with testosterone building elements create a real one-two punch to the system that leads to quicker, stronger and, importantly, longer lasting erections.
Add to that, Formula 41 Extreme even claims that they have hundreds of thousands of satisfied customers based on what they say is an extremely attractive benefit: That with prolonged and regular use, Formula 41 Extreme will lead to permanent growth.
Now, a claim like that will certainly get a lot of people excited but can it really be true? Let's take a look under the hood and see what we find.
Formula 41 Extreme Ingredients
A look at this products' ingredient list shows a full cadre of highly recognized elements widely used in the formulas for any serious male enhancement supplement. These include:
L-Arginine 250mg
Wild Ginseng 125mg
Maca Root 250mg
Tongkat Ali 400mg
A proprietary blend including: Sarsaparilla, Pumpkin Seed Powder, Muira Puama Powder, Oat Straw, Nettle, Cayenne Pepper, Astragalus, Bark Powder, Licorice, Tribulus, Terrestris, Orchic, Oyster Extract and Boron.
Claims associated with this ingredient list state that the components are a combination of fast acting elements and others designed for delayed release to provide steady, long lasting help for all day strength and stamina. For maximum benefits, the company recommends the user should take the full two capsule per day dosage.
Can Formula 41 Extreme Increase Penis Size?
No savvy male enhancement supplement user will be surprised that this product claims to make your penis larger. What they may be surprised by is the extent of those claims. In the FAQs found on their website, Formula 41 Extreme claims that, based on the results from clinical trials, nearly a fifth of their users have measured penis length growth well over three inches and more - Larger than the majority of men who have received surgical procedures.
Other claims state that nearly seventy percent of users have measured penis growth of one and half to two and half inches with regular use. Also, they claim that twenty percent of users have achieved penis lengths of nine inches.
One major problem in attempting to verify any of these claims is that the manufacturer of Formula 41 Extreme does not provide the data for these clinical trials. So, without that information to analyze, we cannot verify that the data even exists, nevermind if it is true. That fact leads us to believe, given the incredible extent of the claims, that they are highly unlikely to stand up to serious scrutiny.
Just looking at the ingredients list gives some telltale clues as to why the claims don't stand up. Simply put, and without need to list all the particulars, the total quantities per dosage of all the key ingredients are just straight up insufficient compared to any top tier male enhancement supplement.
A final note on this subject, Formula 41 Extreme list an exotic blend of secondary ingredients but there's not much evidence that any of it offers any appreciable benefits.
Formula 41 Extreme: What Are The Side Effects?
Side effects to any supplement of any kind should always be a consideration in the choice you make. While there are no reports of any serious side effects there is evidence that consumers of products of a similar formula that one could expect to experience such symptoms as gastric distress and/or fluctuations in blood pressure especially in men on physician prescribed blood pressure medication.
As always, it is advisable to consult with a qualified physician before beginning a regimen of supplements including those for male enhancement.
Buying Formula 41 Extreme
One area of the manufacturer's practices that we could not find any problems with is the price of their product, their ordering and refund policy and their customer service department.
The listed price of a one bottle is $44.95 with a discount for three bottles at $79.95 and for six bottles at $119.95.
The company's refund policy does have one confusing aspect in that the bottles come with a written ninety day refund and requires that any unused portion be returned to qualify. However, if you look at the products' terms and conditions page you will see that the stated refund period is only thirty days. Obviously, the company needs to clarify that issue.
Formula 41 Extreme: The Verdict
If you have read the points laid out in this review you should have no doubt that Formula 41 Extreme has created a formula that meets the criteria needed to compete with any of the standard male enhancement supplements on the market today. But a close look at the particulars of the formula clearly shows that the ingredients fall short in that the listed quantities fall far short of the standards set by the industry leaders.
When you combine that critical fact with the fact that Formula 41 Extreme's decidedly over reaching claims regarding its ability to produce unrealistic penis growth rates any potential user should be quite skeptical.
For any man suffering from low testosterone levels and the resulting effects including erectile dysfunction, diminished libido, loss of stamina and performance in your everyday life and during sexual activity, not to mention the damaging psychological effects caused by the embarrassment and even depression that all to often accompany these issues, it is clear that Formula 41 Extreme is the among the premier male enhancement supplements available today.
For information regarding some of the most respected male enhancement products, see below.